Curbside Pickup and Free Home Delivery for Local Orders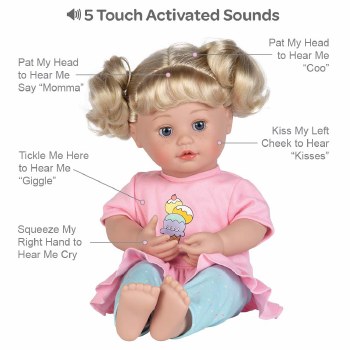 Adora My Cuddle & Coo Baby Blond Hair
$79.99
SWEET INTERACTIVE Baby Doll - Adora's Exclusive Cuddle & Coo Baby encourages limitless nurturing and open-ended play. Children delight in the reaction their Cuddle & Coo Baby gives them.

ENCOURAGES NURTURING INTERACTION - TOUCH ACTIVATION 5 features include; Squeeze hand = Cry, Pat head = Baby Coo, Tickle = Giggling, Kiss on the cheek = kiss back, Pat head = says "Momma". Batteries included, On/Off Switch in enclosed back pouch.

LIFELIKE BABY POWDER FRESH SCENT Cuddle & Coo Baby dolls have a soft and cuddly body and soft silky hair, removable outfit, open and close eyes
From the top of their pigtails to their sweet little toes…Cuddle & Coo Baby is absolutely adorable with a perfect blend of sweetness and love.

Adora's Cuddle & Coo Baby has the Adora Difference! 1 Safety Tested, BPA Free, Non-Toxic, Hypoallergenic, and Made with Love.