Curbside Pickup and Free Home Delivery for Local Orders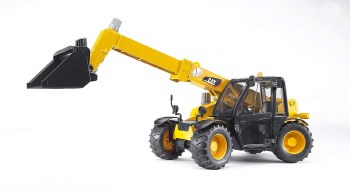 Bruder Cat Telehandler
$42.99
The Cat Telehandler is a truly well rounded vehicle. If large amounts of earth have to be shovelled or delicate goods loaded onto palets the Cat Telehandler is a reliable and effective partner in any situation. Its small size and telescopic arm are exactly what make it the number one choice for many different construction projects. The Cat model is carefully controlled with four accentuated silver turning handles. Besides the adjustable arm height, the arm can extend and retract and the bucket can be tilted as needed to retain or dump material. The Telehandler has fully functional four-wheel steering, this makes steering the Telehandler as easy as child's play.


Highlights:
-Tread tires, four-wheel steering, functional loading arm and removable coupling.

- Manufactured from high-quality plastics such as ABS.

- Compatible with figure.

- Scale 1:16.