Curbside Pickup and Free Home Delivery for Local Orders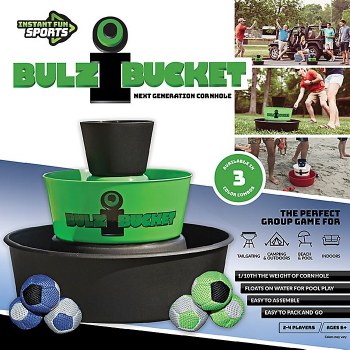 Bulz I Bucket Next Generation Cornhole
$99.99
BulziBucket is our favorite family beach game! Show off those hacky sack skills with this next level cornhole-style game! BulziBucket is collapsible, packable, and portable, so you can take it with you anywhere! It even floats for pool and ocean fun. Take it tailgating, play at the park, at the beach, inside, outside - where you go, it goes!

If you love cornhole but hate lugging around that giant board, try the BulziBucket at one tenth the size and weight! This game is truly fun for all ages and easy to learn - let kids and beginners in on the fun by stacking buckets at variable heights for different skill levels.

Winner of the 2015 Family Choice Award. Includes: 2 heavy duty collapsible bucket targets, 8 hacky sacks, backpack carrying case, instructions.

How to play: Each team gets 4 color-coded bean bags, but one bag is special - the Money Bag, worth double points. Throw it, assist it, or hack it for points (top bucket wins 3 points, middle 2, bottom 1). First team to score 21 points wins!