Douglas Sshlumpie Unicorn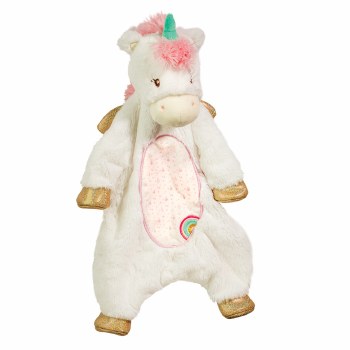 Douglas
Douglas Sshlumpie Unicorn
$29.99
Description
With a shake of her fluffy, pink mane and a stamp of her shimmery hoof, our plush Rainbow Unicorn Sshlumpie stands at attention! She's eager to carry Baby away on a magical fantasy adventure! Cuddly plush fur and an understuffed, snuggly body combine to create a soft toy that is both stuffed animal and soothing blankie. A starry pattern decorates her belly along with a colorful embroidered rainbow. Her four golden hooves and the pair of shiny pegasus wings at her back all feature material that glimmers with a captivating iridescent shine. Embroidered accents make this machine washable toy safe for infants.
Reviews
Customer Reviews
This product has not yet been reviewed.
Our mission
At the Sputtergotch Toy Company, we believe in creating active imaginations. You will find high quality and unique playthings we would buy for our own children, not to mention great gift ideas for the young at heart.
Our Name? Well of course there is a story behind it. Picture twin toddlers with spoons in hand, discussing the benefits of homemade butterscotch pudding. Years later, they still call it Sputtergotch. And it still makes us giggle. A funny word, a smile, a treat….and the perfect name for a toy store!