Curbside Pickup and Free Home Delivery for Local Orders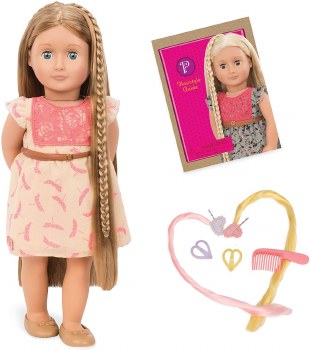 Our Generation Portia Hair Play Collection
$55.99
Learn to make hairstyles that go from HAIR to THERE with Portia, a beautiful 18-inch Our Generation Hair Play Doll. With her bright blue eyes and her ultra-long, beautifully silky light-brown hair, it's easy to get inspired with Portia!

Because we're a very special generation of girls, aren't we? We don't feel the need to define who we are. We're just us, and proud of it. We love to do our hair, wear skirts, and dig in the dirt. (Occasionally all at the same time, if we feel like it.) We're curious about laser beams while we're chasing after our big dreams. We've proven ourselves to be both smart and full of heart. We are here to live out loud. This is our time. This is our story.

Hair Styling Accessories for 18-inch Dolls!

Braids, ponytails, buns, up-dos and more, there are a ton of hairstyles to try to show how unique we each are.

Portia wears an adorable dress with pink lace bodice and a belt. OG Hair Play Dolls have long, extendable braids that can be made longer or shorter with the push of a button (but please don't untie them!) Create an endless array of new hairstyles with the hair clips, hair extensions, and accessories that you can use to style yourself, too! The included hair style guide is full of inspiration, and you can invent your very own amazing styles. With Hair Play dolls like Portia, your imagination is all you need.