Curbside Pickup and Free Home Delivery for Local Orders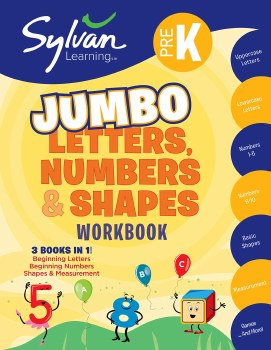 Sylvan Learning Jumbo Letters, Numbers Shapes Workbook
$24.99
3 BOOKS IN 1! Learning at home is as easy as A B C with this supersized workbook that's jam-packed with 320 pages of kid-friendly, teacher-reviewed activities—perfect for kids tackling pre-kindergarten.

Learning the basics of letters, numbers, and shapes is a crucial part of the preparation for kindergarten and an important step on the way to reading and developing strong math skills. This Jumbo Workbook brings together 3 of Sylvan Learning's most popular curriculum-based activity books and includes 320 colorful pages all designed to help your child become fluent with foundational learning concepts like:

- uppercase & lowercase letters
- the numbers 1 to 10
- shapes
- patterns & sorting
- size & measurement
... and much more!

With vibrant, colorful pages full of games and simple puzzles, Pre-K Letters, Numbers & Shapes Jumbo Workbook will help your child develop a love of learning -- and best of all, to have lots of fun doing it!