Clank Catacombs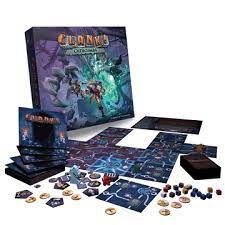 Description
Age 13+; 2-4 Players

The catacombs of the skeletal dragon Umbrok Vessna are mysterious and dangerous. Portals transport you all around the dungeon depths. Wayshrines offer vast riches to intrepid explorers. Prisoners are counting on you to free them. Ghosts, once disturbed, may haunt you to death. Despite all that, it's time to leave the board behind with Clank! Catacombs, a standalone deck-building adventure.

Each trip into the catacombs is unique since you lay tiles to create the dungeon. You can play using only the all-new dungeon deck, or you can include cards from previous Clank! expansions.

Find your fortune (and escape the dragon!) in Clank! Catacombs.
Reviews
Customer Reviews
This product has not yet been reviewed.
Our mission
At the Sputtergotch Toy Company, we believe in creating active imaginations. You will find high quality and unique playthings we would buy for our own children, not to mention great gift ideas for the young at heart.
Our Name? Well of course there is a story behind it. Picture twin toddlers with spoons in hand, discussing the benefits of homemade butterscotch pudding. Years later, they still call it Sputtergotch. And it still makes us giggle. A funny word, a smile, a treat….and the perfect name for a toy store!