Lego Creator Deep Sea Creatures 31088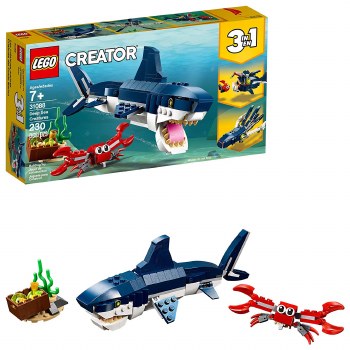 Lego
Lego Creator Deep Sea Creatures 31088
$19.99
Description
Enjoy underwater ocean adventures with the LEGO Creator 3in1 31088 Deep Sea Creatures set, featuring a scary shark with a realistic dark-blue and white color scheme, opening mouth full of pointy teeth, moving fins, movable body joints and reflective eyes, plus a posable crab with a box of treasure. With LEGO Creator 3in1 sets you get 3 different build and play experiences. Build the Shark and crab toys, and then rebuild them to create a posable Squid or a wide-mouthed Angler Fish for even more fun marine action.
Reviews
Customer Reviews
This product has not yet been reviewed.
Our mission
At the Sputtergotch Toy Company, we believe in creating active imaginations. You will find high quality and unique playthings we would buy for our own children, not to mention great gift ideas for the young at heart.
Our Name? Well of course there is a story behind it. Picture twin toddlers with spoons in hand, discussing the benefits of homemade butterscotch pudding. Years later, they still call it Sputtergotch. And it still makes us giggle. A funny word, a smile, a treat….and the perfect name for a toy store!