Melissa & Doug Dog Groomer Play Set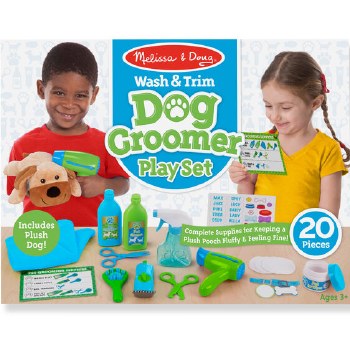 Description
Give an animal friend a special treat! Pamper a plush puppy and keep it cuddly and clean with realistic grooming accessories! Wash and fluff with shampoo and conditioner bottles, a towel, brush, and a dryer that makes noise. Trim with vibrating shears, scissors, and nail clippers, and treat with flea and tick "spray" and ear wipes. Arrange for grooming services with a reusable checklist, and add a personal touch with collars, name tags, decals, and stickers for the precious pooch!
Reviews
Customer Reviews
This product has not yet been reviewed.
Our mission
At the Sputtergotch Toy Company, we believe in creating active imaginations. You will find high quality and unique playthings we would buy for our own children, not to mention great gift ideas for the young at heart.
Our Name? Well of course there is a story behind it. Picture twin toddlers with spoons in hand, discussing the benefits of homemade butterscotch pudding. Years later, they still call it Sputtergotch. And it still makes us giggle. A funny word, a smile, a treat….and the perfect name for a toy store!