Bruder Mack Granite Dump Truck With Snow Plow 02825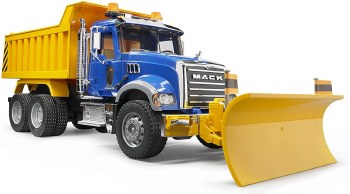 Bruder
Bruder Mack Granite Dump Truck With Snow Plow 02825
$109.99
Description
The "incredibly" realistic driver's cabin with its doors that can be opened, the tilting engine bonnet, providing a view of the engine block, the foldable rear-view mirrors, and the many add-on accessories, which give the its chrome look, make this truck a true feast for the eyes of every truck fan.

And on winter days with thick snowfall powerful helpers are required to assist road traffic. The plough blade makes snow-covered landscapes even more fun for children. The flags that can be attached to the left and right of the plough blade make it look even more realistic. This item comes with light and sound module 02801.
Reviews
Customer Reviews
This product has not yet been reviewed.
Our mission
At the Sputtergotch Toy Company, we believe in creating active imaginations. You will find high quality and unique playthings we would buy for our own children, not to mention great gift ideas for the young at heart.
Our Name? Well of course there is a story behind it. Picture twin toddlers with spoons in hand, discussing the benefits of homemade butterscotch pudding. Years later, they still call it Sputtergotch. And it still makes us giggle. A funny word, a smile, a treat….and the perfect name for a toy store!