Bruder Ram Fire Rescue Truck With Light 7 Sound Module 02544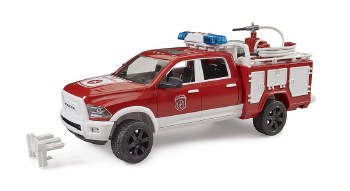 Bruder
Bruder Ram Fire Rescue Truck With Light 7 Sound Module 02544
$99.99
Description
The RAM brand is highly regarded, not only in the leisure sector. This pick-up is also used as the basis for a large number of commercial vehicles, as this model was developed as a heavy-duty pick-up truck by RAM. The RAM Fire Truck is the latest addition to the range of emergency service vehicles.

Thanks to its spring-loaded axles and steering wheel extension, this fire service vehicle is ideal for off-road use. With the newly developed tank system including mounted water cannon, it can reach fires that are difficult to access. For other sources of fire, a second hose can be connected to the water tank. The necessary tools and fire extinguishers can be stowed in the numerous compartments. This detailed vehicle also includes a light and sound module.

This fire truck can be supplemented with the bworld firefighter (item no. 60100) or the bworld fire station (item no. 62702).
Reviews
Customer Reviews
This product has not yet been reviewed.
Our mission
At the Sputtergotch Toy Company, we believe in creating active imaginations. You will find high quality and unique playthings we would buy for our own children, not to mention great gift ideas for the young at heart.
Our Name? Well of course there is a story behind it. Picture twin toddlers with spoons in hand, discussing the benefits of homemade butterscotch pudding. Years later, they still call it Sputtergotch. And it still makes us giggle. A funny word, a smile, a treat….and the perfect name for a toy store!