Crazy Aarons Thinking Putty Happy Hedgehodge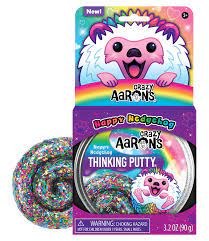 Crazy Aarons
Crazy Aarons Thinking Putty Happy Hedgehodge
$19.99
Description
This hedgehog always has a smile on his face, a magical rainbow sky is his ultimate happy place. Look at your Thinking Putty® sparkle and shine, it will make you as joyful as this Happy Hedgehog, knowing everything will be fine.

Meet your new best friends! Putty Pets Thinking Putty® will be your favorite companions for fidget and focus. Collect them all!

Thinking Putty® helps build hand and finger strength through a fabulous tactile play experience with unique, unexpected properties and provides relaxing, yet stimulating interaction for anyone with sensory integration issues.

Crazy Aaron's putty is non-toxic, won't dry out, and won't leave a sticky or slippery residue on your fingers, so it's great for stretching, molding, bouncing, tearing, popping and playing by kids and adults alike.
Reviews
Customer Reviews
This product has not yet been reviewed.
Our mission
At the Sputtergotch Toy Company, we believe in creating active imaginations. You will find high quality and unique playthings we would buy for our own children, not to mention great gift ideas for the young at heart.
Our Name? Well of course there is a story behind it. Picture twin toddlers with spoons in hand, discussing the benefits of homemade butterscotch pudding. Years later, they still call it Sputtergotch. And it still makes us giggle. A funny word, a smile, a treat….and the perfect name for a toy store!