Highlights Hidden Pictures Dinosaur Puzzles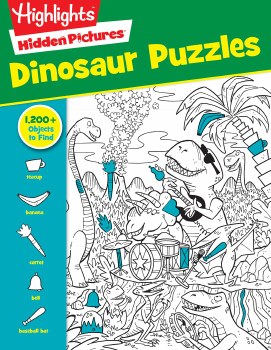 Highlights
Highlights Hidden Pictures Dinosaur Puzzles
$12.95
Description
Spend hours of fun with your favorite dinosaurs in this Hidden Pictures® puzzle book featuring over 100 scenes and more than 1,200 hidden objects in Highlights-trademark black-and-white puzzles.

Dino days are here! With illustrations of all kinds of dinosaur scenes, fossil digs, and other Jurassic adventures, each puzzle in this book is carefully designed to engage and entertain children while honing their concentration skills and attention to detail. This book is sure to please every dinosaur-loving child!
Reviews
Customer Reviews
This product has not yet been reviewed.
Our mission
At the Sputtergotch Toy Company, we believe in creating active imaginations. You will find high quality and unique playthings we would buy for our own children, not to mention great gift ideas for the young at heart.
Our Name? Well of course there is a story behind it. Picture twin toddlers with spoons in hand, discussing the benefits of homemade butterscotch pudding. Years later, they still call it Sputtergotch. And it still makes us giggle. A funny word, a smile, a treat….and the perfect name for a toy store!