Lego Technic 2022 Ford Gt 42154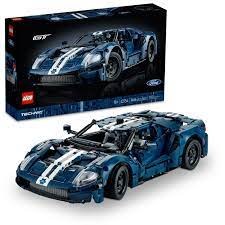 Lego
Lego Technic 2022 Ford Gt 42154
$159.99
Description
Discover amazing attention to detail and iconic good looks all wrapped up in an immersive project with the LEGO Technic 2022 Ford GT (42154) car model kit for adults. Take your time assembling the model car with authentic features, like rear-wheel drive with differential, working V6 engine, independent suspension on all wheels, front-axle steering, opening doors, headlight details, working spoiler wing and opening hood. Your efforts will be rewarded with a stunning collectible 1:12 scale model car that's made for display. Get under the skin of the Ford designers as you recreate all the stunning details of this LEGO supercar. Marvel at the aerodynamic shape that makes the 2022 Ford GT a remarkable car, on and off the track. The LEGO Builder app gives you a convenient way to keep instructions organized. Use the app to zoom in and rotate models in 3D, save sets, track your progress and find inspiration for new builds. This buildable LEGO Technic supercar model is designed for adult builders and Ford fans, offering a detailed building project with a collectible display piece to admire.
Reviews
Customer Reviews
This product has not yet been reviewed.
Our mission
At the Sputtergotch Toy Company, we believe in creating active imaginations. You will find high quality and unique playthings we would buy for our own children, not to mention great gift ideas for the young at heart.
Our Name? Well of course there is a story behind it. Picture twin toddlers with spoons in hand, discussing the benefits of homemade butterscotch pudding. Years later, they still call it Sputtergotch. And it still makes us giggle. A funny word, a smile, a treat….and the perfect name for a toy store!