Melissa & Doug Reusable Sticker Pad Habitats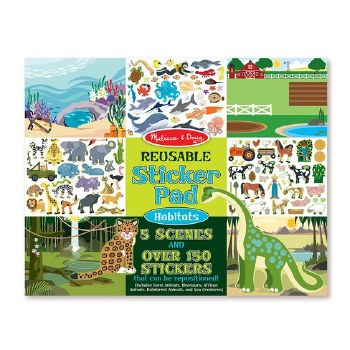 Description
Visit a farm, a prehistoric landscape, a desert oasis, a jungle, or the deep blue sea, all in this interactive sticker book! The glossy, full-color backgrounds are ready to be filled with more than 150 stickers: Stick a dinosaur by the prehistoric pond and a shark in the ocean -- or mix them up and make silly scenes! The easy-to-peel vinyl stickers can be lifted off and repositioned again and again, so kids can follow their imaginations fearlessly.
Reviews
Customer Reviews
This product has not yet been reviewed.
Our mission
At the Sputtergotch Toy Company, we believe in creating active imaginations. You will find high quality and unique playthings we would buy for our own children, not to mention great gift ideas for the young at heart.
Our Name? Well of course there is a story behind it. Picture twin toddlers with spoons in hand, discussing the benefits of homemade butterscotch pudding. Years later, they still call it Sputtergotch. And it still makes us giggle. A funny word, a smile, a treat….and the perfect name for a toy store!