Schleich Giraffe Male 14749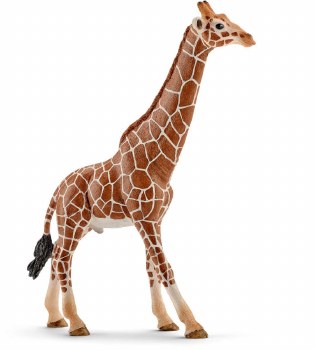 Schleich
Schleich Giraffe Male 14749
$10.99
Description
Giraffe bulls are so large, they can put their head through the window of the second floor of a building and say "Hello". Their tongue is up to 20" long, is desensitized to prickly leaves, and has an unusual color: it`s dark blue. This color helps protect it from sunburn when Giraffes use it to wrap around and pluck leaves. Even animals as large as Giraffes need to sleep between meals. When there is no threat of danger, they lie down for a nap, but in the wilderness they mainly sleep standing up.

Hand painted and crafted from quality plastics.
Reviews
Customer Reviews
This product has not yet been reviewed.
Our mission
At the Sputtergotch Toy Company, we believe in creating active imaginations. You will find high quality and unique playthings we would buy for our own children, not to mention great gift ideas for the young at heart.
Our Name? Well of course there is a story behind it. Picture twin toddlers with spoons in hand, discussing the benefits of homemade butterscotch pudding. Years later, they still call it Sputtergotch. And it still makes us giggle. A funny word, a smile, a treat….and the perfect name for a toy store!