Easy And Fun Paint With Water Unicorns And Friends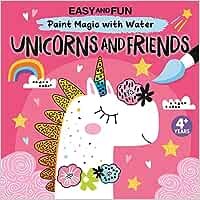 Description
Just add water and it's like magic! A fun (and mess-free!) painting activity book for kids ages 3-6, Easy and Fun Paint Magic with Water: Unicorns and Friends features 12 whimsical and mystical line art designs of carefree unicorns, from llamas and kitten mermaids to unicorns floating in outer space, flying over rainbows, and more. Using the provided paintbrush, simply wet with water and watch the colors magically appear on each black-and-white illustration as it comes to life! With a stiff cardboard backing to prevent unwanted leaks, parents can rest assured while their children paint and have a blast using water to create stunning works of unicorn art! Each page within this paint book comes with perforated edges so finished artwork can be easily removed and put on display.
Reviews
Customer Reviews
This product has not yet been reviewed.
Our mission
At the Sputtergotch Toy Company, we believe in creating active imaginations. You will find high quality and unique playthings we would buy for our own children, not to mention great gift ideas for the young at heart.
Our Name? Well of course there is a story behind it. Picture twin toddlers with spoons in hand, discussing the benefits of homemade butterscotch pudding. Years later, they still call it Sputtergotch. And it still makes us giggle. A funny word, a smile, a treat….and the perfect name for a toy store!