Ravensburger 1000pc Disney Castle Collection Cinderella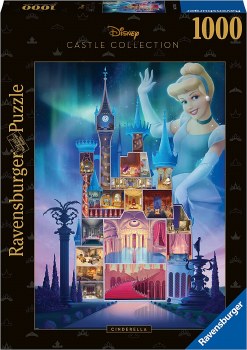 Ravensburger
Ravensburger 1000pc Disney Castle Collection Cinderella
$28.99
Description
The dreams that you wish will come true with our "Disney Castles: Cinderella" puzzle!

Forced to become a servant to her malicious step-mother and jealous step-sisters, Cinderella remains good and kind. When they viciously spoil her chance to attend the prince's ball, her fairy godmother transforms her rags into a breathtaking gown and she's whisked away to the castle in her pumpkin coach. After falling in love with the handsome Prince Charming, the clock strikes midnight and Cinderella flees before the spell is broken. Will he find his true love with only a glass slipper?

Enjoy this Cinderella puzzle and our entire Disney Castles Collection celebrating 100 years of Disney magic! This 1,000-piece jigsaw puzzle combines captivating imagery with clean-cut pieces and Ravensburger's perfect interlocking fit for a most pleasurable puzzling experience. Our puzzles are crafted with an exclusive, extra-thick backing along with our superior, linen-structured paper, so the printed image is vibrant, crisp, and glare-free. Create memorable moments with Ravensburger premium puzzles!

Fun for ages 14 and up! Measures approximately 27 x 19.5 inches (70 x 50 cm) when completed.
Reviews
Customer Reviews
This product has not yet been reviewed.
Our mission
At the Sputtergotch Toy Company, we believe in creating active imaginations. You will find high quality and unique playthings we would buy for our own children, not to mention great gift ideas for the young at heart.
Our Name? Well of course there is a story behind it. Picture twin toddlers with spoons in hand, discussing the benefits of homemade butterscotch pudding. Years later, they still call it Sputtergotch. And it still makes us giggle. A funny word, a smile, a treat….and the perfect name for a toy store!