Yookidoo Spin N Sort Spout Pro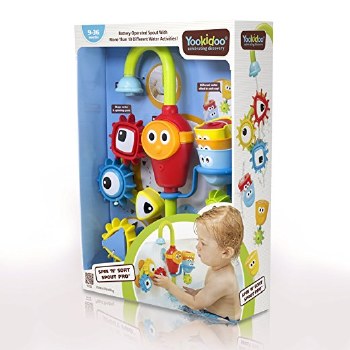 Yookidoo
Yookidoo Spin N Sort Spout Pro
$59.99
Description
Make bath time fun! This automated play spout attaches to the tub and offers many ways to play with water. Water is drawn up and through the spout creating a safe and constant flow of water without having the faucet on. Your child will be amazed by the variety of options they can explore. This bathtub set comes with three interchangeable tumblers, each with its own different spouting water action. The blue tumbler creates a showerhead, the green has a water wheel, and the red tumbler has a hidden friend inside. Use the tumblers individually in the spout, stack them and watch the water run through all three at once, or play with them freely in the tub for hours of entertainment! For more fun, the Flow N' Fill Spout PRO also includes three spinning gears that suction cup to the side of your bathtub. Just swivel the spout over the wheels for even more sensory stimulation. All components are mom tested and child safe!
Reviews
Customer Reviews
This product has not yet been reviewed.
Our mission
At the Sputtergotch Toy Company, we believe in creating active imaginations. You will find high quality and unique playthings we would buy for our own children, not to mention great gift ideas for the young at heart.
Our Name? Well of course there is a story behind it. Picture twin toddlers with spoons in hand, discussing the benefits of homemade butterscotch pudding. Years later, they still call it Sputtergotch. And it still makes us giggle. A funny word, a smile, a treat….and the perfect name for a toy store!